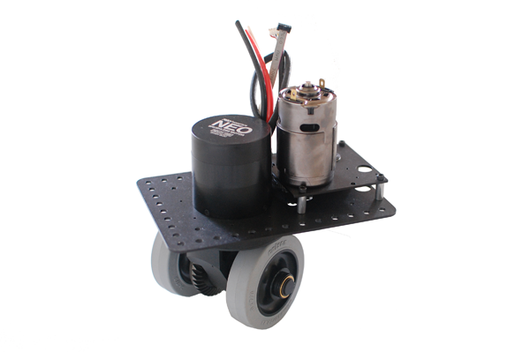 MicroSwerve
Regular price $339.00 Sale
This is a small light weight high speed swerve module.  The main plates are 7075-T6 and the wheel module is 6061-T6 aluminum.   It has a single reduction 40:11 ratio with hardened steel bevel gears to the hex shaft that can support 2.75 to 3 inch wheels.  The steering gear total ratio is approximately 126:1 made of all steel gears with an aluminum pulley for the final 3:1 reduction.  We have an integrated encoder from 221 Robotic Systems that directly reads the module position for a recommended Talon SRX controller.  The design also is projected to support a Falcon 500 motor with a Thrifty Bot 8mm shaft, but the steering sensor is on a separate 3:1 reduction similar to other swerve modules.  Well start sales on the Falcon version after we put one together.  The total weight of the module including motors and Colson wheels is 4.1lb (pictured configuration).
Wheels, motors, controllers not included.
2x1 frame and gussets in solidmodel for example only.