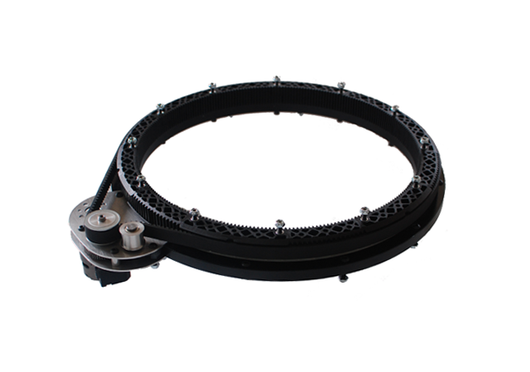 Turret240
Regular price $35.00 Sale
This version is discontinued:  For new turret orders please see version 2:
This full featured turret includes an integrated gearbox, absolute encoder, and heavy duty bearing driven by a HTD-5M 15mm wide belt.  The turret requires a 775 series motor, either a 775pro from Vex/WCP or a Redline from AndyMark.  The total ratio from motor to the turret output is approximately 462:1 giving a free speed of 243 degrees per second (775pro) or 272 degrees per second (Redline).  Gearbox plates are black anodized 7075-T6 aluminum.  The absolute encoder has an exact ratio of 1:1 with the turret output and comes in the option for digital with 10 pin connector or analog with a 3 pin header.  The weight is 6.7lb including attachment hardware and 775 motor.

Option for using a NEO550 Motor.  Free speed of turret for this motor is 143 degrees per second.  To interface with the Spark Max controller data port, pick analog for the sensor option.